Website Development
Whether you need a content managed solution or an e-commerce system, we can develop a customized web application that meets your specifications.
Website Production

Web based applications have many advantages over software that you have to download. You don't need to install or update anything on your PC. You can use the application from any PC or mobile device. Web applications are easy to use and make working with other people much simpler. You don't need to worry about backups because your data is safely stored on a server.
Universal Bytes, Inc. commits experienced project managers, sound web design tenets/guidelines, and extensive resources for thorough Quality Assurance testing to ensure a successful deployment and that the Clients' objectives are met
Corporate websites
Our designers and multimedia experts will work with your staff to tailor fit a solution.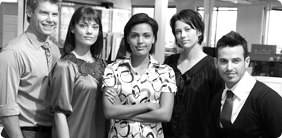 Your corporate website often serves as an online brochure. It is a big part of reaching customers who do not yet know you. It provides background about you, your products and/or services that you offer. As well, it may also point out some specialties or services that makes your business unique.
We deliver elegant & smart professional design (web design , Graphic design), advance technology, and strategic business thinking.
Web-Based Applications
Our web-based solutions enable you to interact with the application and data in a fluid and highly responsive manner.
E-Commerce
Customize your virtual store front; catalog your inventory, interact with your customers, and complete your transactions online.
Ecommerce Websites
Custom Shopping Cart
Transaction Management
Workflow & Production DB
Web-based tools enable convenient access to your data from anywhere in the world at anytime. It streamlines your business and improves the interactivity with your customers and partners.
CRM
Productivity Tracking
Calendar and Diary Systems